The Best Paper Airplane
People always ask us, "What is the Best Paper Airplane"? Well.... it depends on your goal. In this article, we'll explain each goal and show the winning paper airplane design that is
our top pick.
Best Paper Airplane for Distance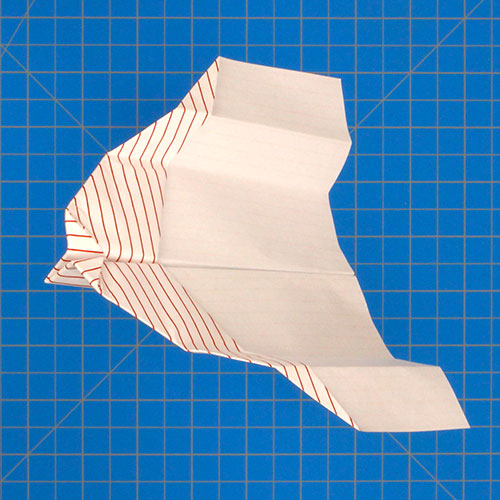 The Bird
Furthest Flying Paper Airplane
If you are looking for the furthest flying paper airplane that can really go the distance, we recommend The Bird. This design is relatively easy to fold, and if it is adjusted carefully it can glide for a very long distance.
To optimize your throw for distance, try tossing this paper airplane at a 45° upward angle. Throw as hard as you can without causing the paper to deform in the wind. If the airplane doesn't go in a straight line, you can make small bends to the backs of the wings. To learn more about making adjustments to your paper planes, please read our article on steering your paper airplanes. If you are outdoors, put the wind at your back to get a little boost.
In our tests, a 10 year old child regularly threw this paper airplane more than 50 feet. If you throw it harder, it could go even further. If we find a better design we'll let you know, but for now this is our pick for the best paper plane for distance.
If you don't mind using a rubber band to add a little extra oomph, then try the Lift Off paper plane. It goes a bit further, but requires a good rubber band and a solid launch.
Best Easy Paper Airplane for Teaching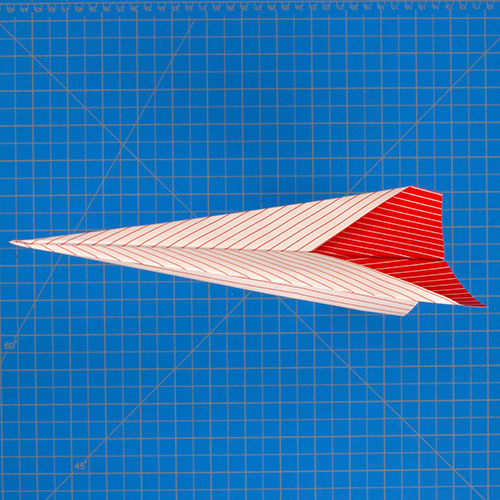 Basic Dart
Easiest Paper Airplane
For teaching young children how to fold their first paper airplane we recommend the Basic Dart. This design only requires 5 folds and it flies well even if those folds are not made accurately.
Young children often lack the dexterity to make perfect symmetrical folds. You can help them practice the first fold by showing them how to line up the corners when folding the paper in half. Kids often use their whole hand to smash the paper when folding. This can cause wrinkles and unwanted creases. Show them how to carefully use their finger to press the paper flat in a smooth line. After a few tries, they will get the hang of it.
To make it easier, download and print our folding templates. These have lines printed on the paper so children can easily fold on the lines. If your child is having difficulty, you might fold and then unfold some of the lines so the paper already has a crease in it and will more easily go where the child wants it to go.