World Record Paper Airplanes
Discover the amazing Guinness World Records for paper airplane folding and throwing.
Many different achievements related to paper airplanes are recognized and tracked by Guinness World Records. If you want to hold a paper airplane world records, you can try for distance, time aloft, largest, or highest launch. You can also make the longest chain of paper airplanes, or launch the most paper planes simultaneously. Or, if you really want to impress your friends, you can throw the most paper airplanes into a watermelon in one minute!
Read on for a summary of the greatest achievements in paper airplane engineering.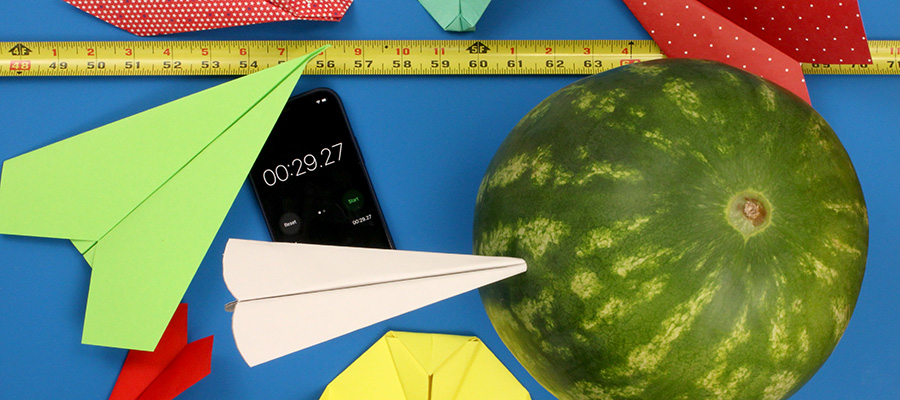 Furthest Flight World Record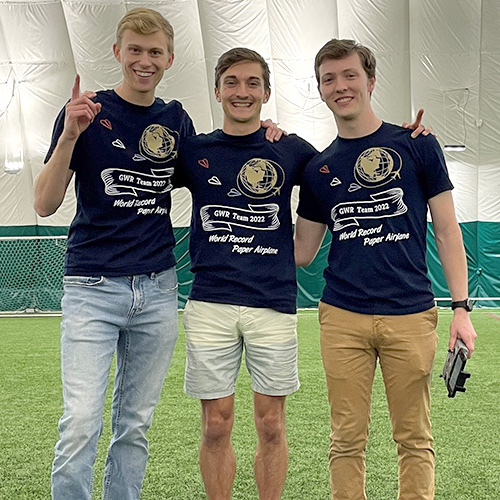 The Guinness World Record for the longest distance flown by a paper airplane is 88.318 meters (290 ft). This was achieved on Dec 2, 2022 in Indiana USA by Dillon Ruble, Nathan Erickson and Garrett Jensen. It was a team effort, with Nathan folding the aircraft, Dillon throwing it and Garrett helping with test flight analysis. They are "calling it the 'Mach 5' paper airplane since the design geometry resembles what is seen in many hypersonic glides vehicles within the aerospace industry!"
The team used computer simulations to determine that a launch angle of 40 degrees was optimal and they spent more than 400 hours over 6 months perfecting the design. It takes at least 20 minutes to fold the winning design from a single sheet of 100 g/m2 A4 paper. Want to learn more? We interviewed the team to get more details about this amazing achievement.
Previous to this, the record was held by Kim Kyu Tae, Shin Moo Joon and Chee Yie Jian. This team set the record in April 2022 by throwing their paper airplane 77.134 meters (253 ft). The first official record for paper airplane distance was set in 1985 by Tony Felch from the USA. It flew a "measly" 58.82 meters (193 ft).
If you are thinking about attempting this record yourself, here are some rules to keep in mind. The maximum size paper allowed is A4 and the maximum paper density is 100g/m2. The paper airplane must be folded without any glue, tears or cuts. A small piece of 25mm x 30mm clear tape is allowed. The throw must be done indoors and behind a starting line. If your foot crosses the line, it will be disqualified. Measurement is made from the line to the first place where the airplane touches the ground.
Historical Records
Name
Date
Record
Ruble, Erickson, Jensen
Dec 2022
88.32 m
Kim, Shin, Chee
Apr 2022
77.13 m
Joe Ayoob
Feb 2012
69.14 m
Stephen Kreiger
Sep 2003
63.19 m
Tony Felch
May 1985
58.82 m
Longest Flight World Record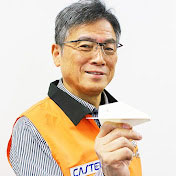 The longest flight time of a paper airplane is a duration of 29.2 seconds. This world record achievement was made in 2010 by Takuo Toda from Japan. Toda, the chairman of the International Paper Airplane Association, hopes to break the 30 second barrier some day. According to him, the secret to a long flight is to throw the paper airplane nearly straight up to get the most height. This gives the glider a long time to go in circles before reaching the ground.
Historical Records
Name
Date
Record
Takuo Toda
Dec 2010
29.2 sec
Takuo Toda
Dec 1998
27.9 sec
Ken Blackburn
Oct 1998
27.6 sec
Chris Edge, Andy Currey
1996
20.9 sec
Ken Blackburn
Feb 1994
18.8 sec
Ken Blackburn
1987
17.2 sec
Ken Blackburn
Nov 1983
16.9 sec
Largest Paper Airplane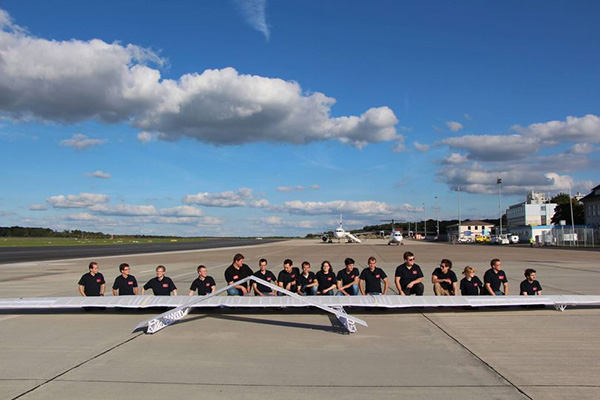 The world's largest flying paper airplane is a 24 kg (53 lb) glider that flew 18 meters (59 ft) when thrown off a platform by a single (strong) person. This paper airplane has a wingspan of 18.21 meters (60 ft) and a length of 5.16 meters (17 ft). It was constructed in Braunschweig, Germany in 2013 by a team of 16 university students and employees.
The previous record was set in 1995 by a team from the Netherlands who constructed and flew a paper airplane with a wingspan of 14 meters.
A larger paper airplane was constructed in Fitchburg, USA in 2018, but it was not able to fly so it cannot qualify for this world record. This "paper airplane sculpture" weighs 680 kg (1500 lb) and is 19.5 meters (64 ft) long.
Highest Paper Airplane Launch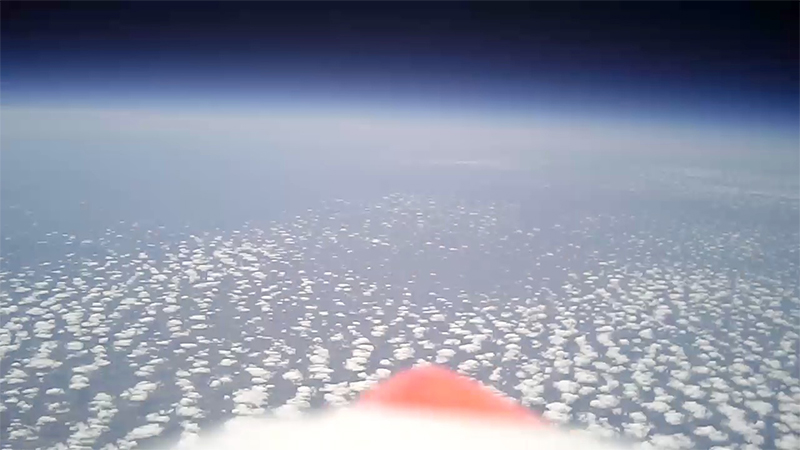 The Guinness World Record for the highest launch of a paper plane is 35 km (21.7 miles). This paper airplane was launched from a weather balloon in 2015 by a high school science club in the UK. This is higher than a real aircraft can fly and almost a third of the way to outer space. It landed more than 40 km away from the launch site.
The previous record was held by another team from the UK who launched their paper airplane from 27 km (17 miles).
Another team launched a bunch of paper airplanes from 37 km (23 miles) above Germany, which is technically higher, but this attempt was not verified by Guinness World Records. According to this project, some of these airplanes were recovered in North America and Australia, potentially making these the furthest flying paper airplanes as well.
Other Paper Airplane Records
There are many other world records related to paper airplanes. Here are just a few:
Longest Line of Paper Airplanes: 14,285 planes
Longest Chain of Paper Airplanes: 1,926 meters
Most Paper Airplanes Launched Simultaneously: 12,672
Most Paper Airplanes Thrown into Watermelons in One Minute: 13
Most Paper Airplanes Caught by Mouth in One Minute: 17
Most Paper Airplanes Made in One Hour: 12,026
Most Consecutive Catches of a Paper Airplane: 318
Most Consecutive Times By a Paper Airplane to Hit a Target: 13
Fastest Time to Fold and Throw a Paper Airplane: 7.03 sec
Set your Own World Record
Are you eager to get your 15 minutes of fame with your own paper airplane world record? Take a look at the records above and determine which one you think you can beat. In this author's opinion, folding and throwing a paper airplane in under 7 seconds seems beatable. Or, you can always try to throw 14 paper planes into a watermelon!
Once you have picked a record, practice, practice, practice. If you are successful, then you will need to make an official record breaking attempt. To do this, you must create an account at Guinness World Records and submit an application. After a 12 week wait you will receive the official guidelines. You must follow these guidelines exactly to the letter and submit photographic and video evidence of your achievement along with witness statements and other documentation. The paperwork alone may be more difficult than the actual record breaking attempt. Good luck and let us know how it goes!