Does Paper Size Matter?
When making a paper airplane, does the size of the paper matter? Will a small or large paper airplane fly better?
Let's find out!
When you make a paper airplane you probably reach for a regular piece of printer paper. This is certainly the most convenient size of paper, but have you ever wondered if printer paper is the ideal size for a paper airplane? Maybe a smaller piece of paper would make a lighter airplane that floats better. Or maybe a larger piece of paper would have wider wings that keep it aloft longer.
Let's experiment with different sizes of paper and discover the answer.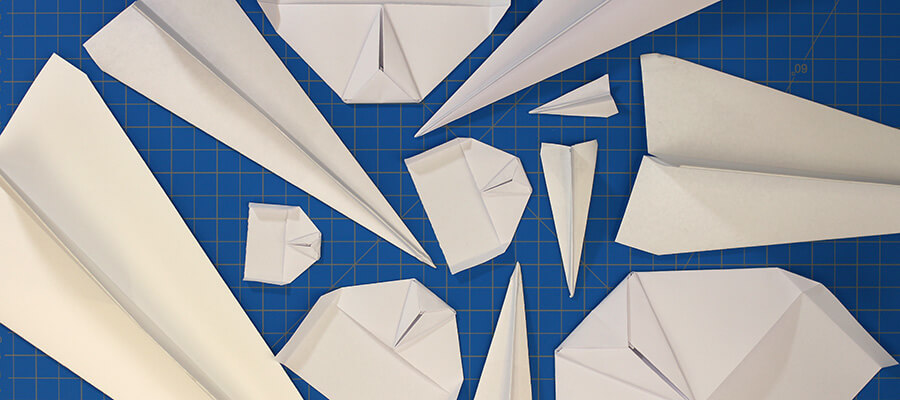 Paper Sizes Around the World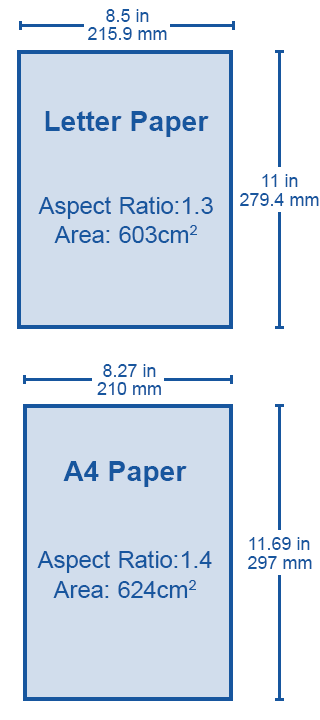 In North America, parts of South America, and the Philippines regular printer paper is called "Letter Paper" and measures 8.5 by 11 inches. The rest of the world mostly uses "A4" paper which measures 210 by 297 millimeters.
The two different sizes of printer paper used throughout the world are similar, but they have slightly different dimensions. If you divide the height by the width, you get the aspect ratio (AR). Letter sized paper has a ratio of 1.3 whereas A4 sized paper has a ratio of 1.4. This means that A4 paper is slightly taller and skinnier than letter paper.
AR = height⁄width
Letter sized paper has an area of 603cm2 and A4 paper has an area of 624cm2. These small differences don't affect the paper airplanes, but larger differences might, and that's what we want to figure out. Now that we know the dimensions of the paper that we use, let's figure out how to make larger and smaller airplanes.
Lets Make Some Smaller Paper
When making different sizes of paper airplanes, we need to be consistent and use paper that has the same aspect ratio, otherwise the designs won't come out the same when you fold them. It usually isn't possible to purchase differently sized paper with the same aspect ratios, so we'll have to make it ourselves. Don't worry, it's easy to make any size of paper with a specific aspect ratio. Simply pick the width (the small dimension) and then multiply this by the aspect ratio to get the height (the long dimension).
Height = Width * AR
A4 Paper Resizing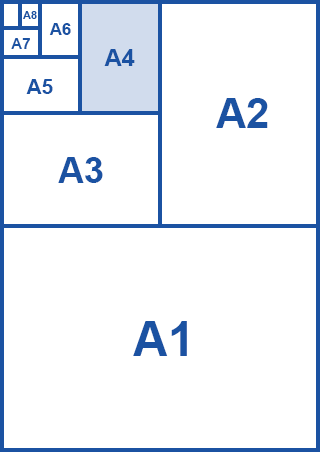 If you are lucky enough to live in a place where A4 Paper is standard, then you are in luck! This size of paper was designed to be cut in half. In fact, it all starts with a larger piece of paper called A0 which is defined as having an area of 1m2 and an aspect ratio of √2 (~1.414). By cutting this in half you get an A1 paper. Cut in half again and you get an A2 paper. Halve it twice more and you are back to our standard A4 paper. We can use this mathematical convenience to make smaller pieces of paper with the same dimensions. Simply, cut your A4 paper in half to make two pieces of A5. Cut one of those in half to make an A6 and so on. With one piece of paper you can make four or five smaller pieces, each one with the exact same aspect ratio. Now, just fold your tiny airplanes!
Letter Paper Resizing
If you happen to use Letter Paper, it's not so easy. But don't worry, we'll help you do the math. Letter paper has an aspect ratio of 1.3. If you cut it in half, the new piece will have an aspect ratio of 1.5 which doesn't do us any good. A paper airplane folded with this paper shape will look different than one folded with regular letter paper.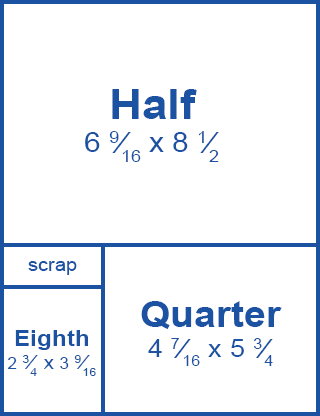 Download
Get out your ruler, because here are the dimensions that you need to measure to turn one piece of paper into three smaller pieces with the same aspect ratio. The area of each size is roughly half of the previous size.
Half: 6 9⁄16 x 8 1⁄2 inches
Quarter: 4 7⁄16 x 5 3⁄4 inches
Eighth: 2 3⁄4 x 3 9⁄16 inches
Don't want to measure all that? We don't blame you. Lucky for you, we made a template that you can download and print. Just cut along the lines.